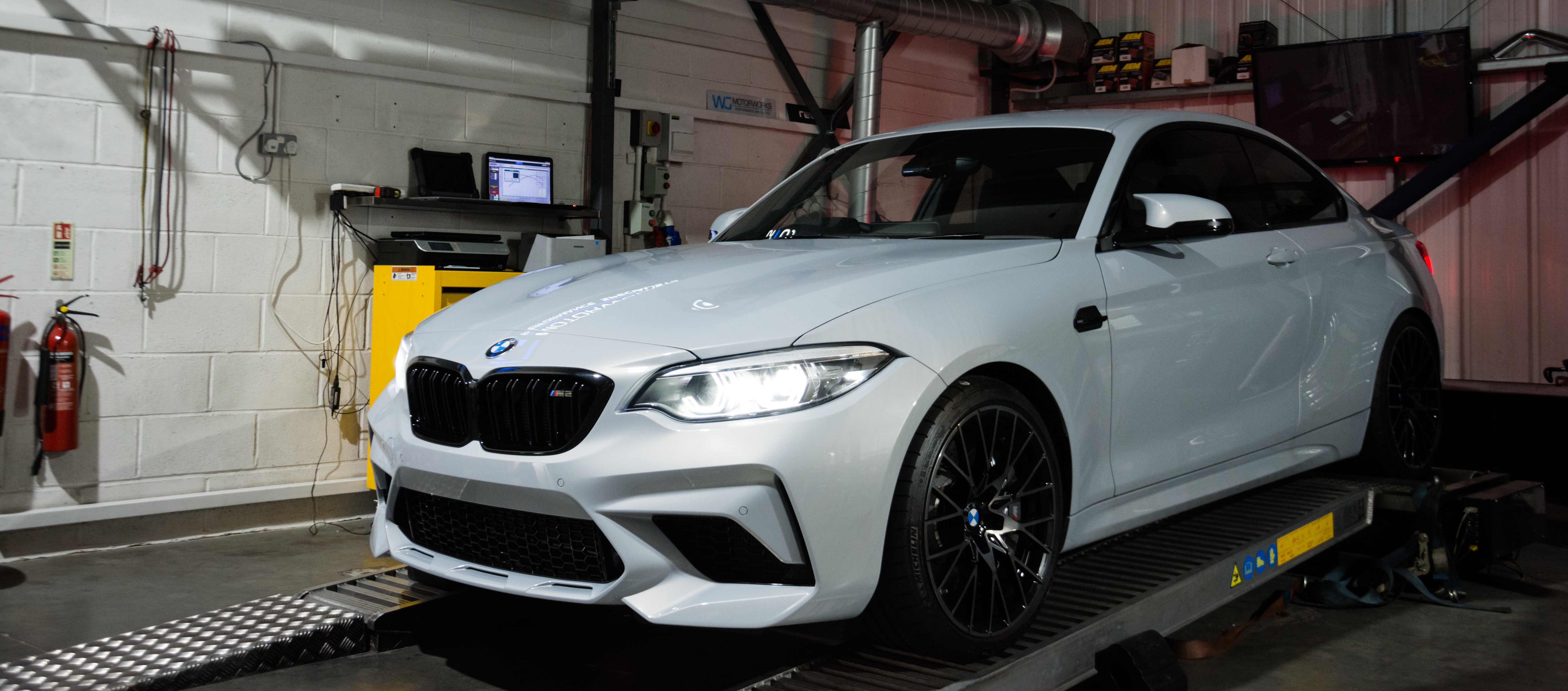 BMW M2 Competition
Tuning guide
The M2 Competition uses a completely new power plant in the 2 Series chassis,  now equipped with the S55 engine which is also found in the F series M3 / M4. Essentially running the same set up bar some emissions related exhaust restricting filters, known as GPF / PPF (Gasoline / Petrol Particulate Filter).  Punching 410HP from a 3.0 Twin turbo straight 6, direct injection engine. In Standard form the M2c is not slow..... however most owners will notice the power that goes flat over 5500rpm (as shown in the power graph in green). This power curve is resolved with a simple software upgrade, where 500HP can be seen.
Overall the S55 engine is a strong power unit, matched with a DCT gearbox that has been proven to handle in excess of 600-700HP in standard form, although if using for track we would recommend some additional cooling packages to ensure temperatures are kept in check.
The main weak link on the S55 has been found, and is related to the crankshaft to timing gear bolt - using a bolt torque pressure only flange that bolts the timing chain bottom pulley to the crankshaft  without a key way or dowel. This can 'slip' with aggressive downshifts / high torque numbers. We can offer a capture plate which helps to prevent this occurring,  how ever there is no guarantee that this is a permanent fix. For those running big power or having the unfortunately experience when running big power there is a complete solution which involves replacing the bottom pulley with a doweled crank hub. More information can be found here...
S55 Engine ECU tuning can be offered across two options, our standard CustomPro tune with its proven calibrations which have been Dyno, Track and also importantly Road tested in real world situations.
Alternatively we can offer  BM3 (Bootmod3) software for the end users who like to fine tune some settings themselves. Custom BM3 tunes can also be offered.
For the power hungry folks, or those who simply want to improve their soundtrack - plenty of upgrades can be offered from MOT legal exhaust systems, full track system (Not road legal) can be offered, along with Hybrid turbo chargers and engine cooling upgrades.
For those Track Addicts, Nurburgring goers or simply for those who have increased their power and need to match chassis we can offer simple upgrades from high performance pads / brake lines to full blown suspension coilover systems with various Roll bar, bushes upgrades also.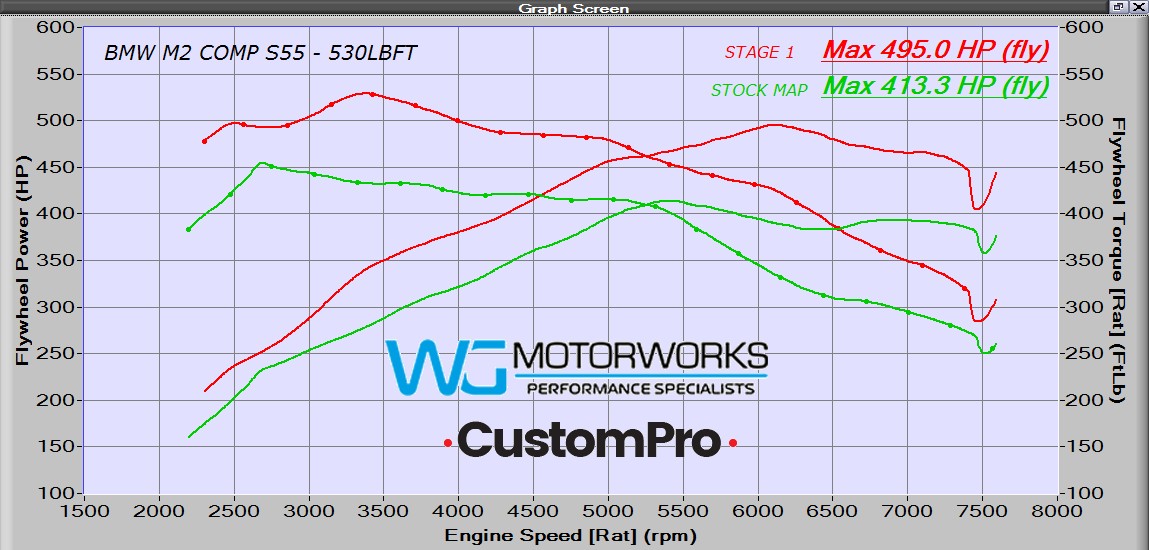 The first step with extracting power from the S55 engine requires no hardware changes, this is software only upgrade. The main objective was to keep the power climbing nearer to the rev limiter rather than flattening off like standard, along with increasing the torque levels while following a similar power delivery to stock to avoid unnecessary torque spikes from the small twin turbo's. While retaining a safe AFR to ensure EGT / Catalyst temperatures are kept in check.
With our 'Stage' software upgrades the following features are included:
Vmax Removal (Speed limiter removed)
Sports Displays recalibrated to suit new outputs
Expected Results, based on our Dyno Dynamics rolling Road:
+80-90HP (490-500HP)
+ 70-90LBFT (510-530LBFT)
The next step with extracting power on the M2c engine requires the removal of the OPF filters. With the option of either a simple bypass section or a complete cat back system.  Once the restrictive filters are removed not only will the exhaust note be much improved, but additional overrun can now be heard. GPF 'delete' software has to be carried out to ensure no limp modes or EML (Engine management lights) are eliminated. With the hardware improvement we naturally see gains closer to what the M3/ M4 would expect with stage 1 software.
This Plus stage (1+) includes GPF delete software, and the option for enhanced overrun (Decel)
Expected Results, based on our Dyno Dynamics rolling Road:
+100-120HP (510-530HP)
+ 80-100LBFT (520-540LBFT)
The final step with maximizing the efficiency of the stock turbochargers is removing the catalyst in the downpipes, Removal of the downpipe upgrade is recommended as for Track use only (not MOT legal), with the catless downpipes installed Fueling can be optimized and new lambda targets set, and slight increase of boost and ignition timing taking into account the less restrictive exhaust system.
Standard cat back with or without GPF filters can be still retained, how ever optimal results are based on free flowing turbo back system. Uprated Charge cooler system is not a requirement, however gains can still be achieved installing.
This stage 2 includes GPF  delete software (If applicable), and the option for enhanced overrun (Decel) along with Catalyst code removal to avoid EML lights
Expected Results, based on our Dyno Dynamics rolling Road:
+120-150HP (530-560HP)
+ 90-110LBFT (540-560LBFT)
The stock turbochargers are the limiting factors when it comes to the next stage of performance, with compressor / turbines limiting any more flow. With larger compressor and turbines installed into the stock turbo housings, these 'Hybrids' allow much great flow of air flow, and exhaust gas flow. High flow downpipes are must at this state of tune, and with a cat back system advised for optimal gains.
Charge temperatures start to creep up, when increasing the boost pressures - so depending on target HP and usage we would advise a charge cooler / system upgrade as well.
Water Methanol would also be a upgrade when pushing to the upper figures. Wide range of power is given at this stage due to several factors.
This stage 3 includes GPF  delete software, and the option for enhanced overrun (Decel) along with Catalyst code removal to avoid EML lights
Expected Results, based on our Dyno Dynamics rolling Road:
+190-290HP (600-700HP)
+ 100-150LBFT (570-620LBFT)