WGM Corsa E VXR Engine Tuning 
The Corsa E VXR follows in similar footsteps of its older brother, the Corsa D VXR. Both generations of the VXR have a lot of similar components including engine, drivetrain and chassis
The 1.6 turbo-charged engine has been retained, however one key change for us is the Engine Control Unit (ECU), which is now completely different, running a torque-based AC Delco E83, opposed to the Bosch ME7 used earlier in the VXR range. From its predecessor, power output has been increased to 205PS and Torque raised by 36LBFT across the rev range,
For those who are new to the VXR range or not knowing about the 1.6 Turbo engine, like most things in life, there are good and bad points! In the standard form, the engine internals are not deemed strong, often been referred to as having 'chocolate pistons' . However, once the cast pistons and connecting rods are replaced with superior forged items, running 400HP+ and 8000rpm+ becomes easy work for this high revving short stroke engine. In Fact, these engine are turned into a tuner's delight!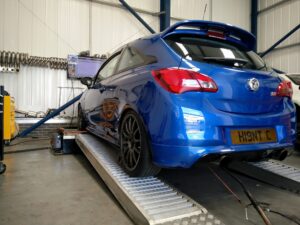 In collaboration with Rabbid Remaps, we have been developing software and hardware Packages for the B16LER Engines.
With Rabbid Remaps initial Research and Development Stages, we found:
– The factory calibration is extremely rich (down between 9:1 to 10:1), and it appears to have errors in the MAF calibration.  After re-calibrating and straightening out the air fuel ratio, good economy gains should be seen
– The Corsa D injectors were maxed out by Stage 1, whereas good news on the Corsa E is that Vauxhall have fitted it with ~345cc injectors as standard. which should comfortably see around 260HP before changing
– The stock intercooler is also very poor, we observed over 80C intake temperatures in 30C ambient conditions and over 65C in 20C outside temps. The car quickly begins to heat soak, therefor an uprated intercooler would make a good addition to keep the power consistent
– We discovered that the new style MAF sensor fitted to the car maxes out at ~220HP with a Stage 1 remap. Therefore to safely tune above 220HP an uprated MAF sensor pipe will need to be installed. We would consider it dangerous to tune further without one, to avoid symptoms such as lean running, knock,  or even engine failure
Features that we can access for the AC Delco ECU:
– Larger Injector Calibration, which is required when running over 260HP
– Larger MAF Sensor Calibration, which is needed for over 225HP
– Closed Loop Boost Control, Upto 2 Bar Currently
– Catalytic Diagnostics Delete
– Rear O2 Sensor Delete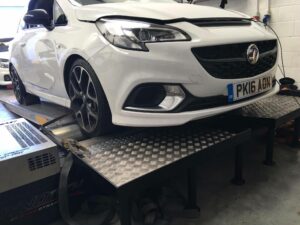 With all this in mind, our development began with a stage 1 software only upgrade.
WGM Stage 1 –
Multiple dyno runs of both of our development cars, along with intensive 'real life' testing on the road, saw gains of exactly 20HP over standard at peak figure, with under the curve gains of 30HP / 40TQ.  This was as far as we could push the car without upgrading the intake, due to the MAF maxing out.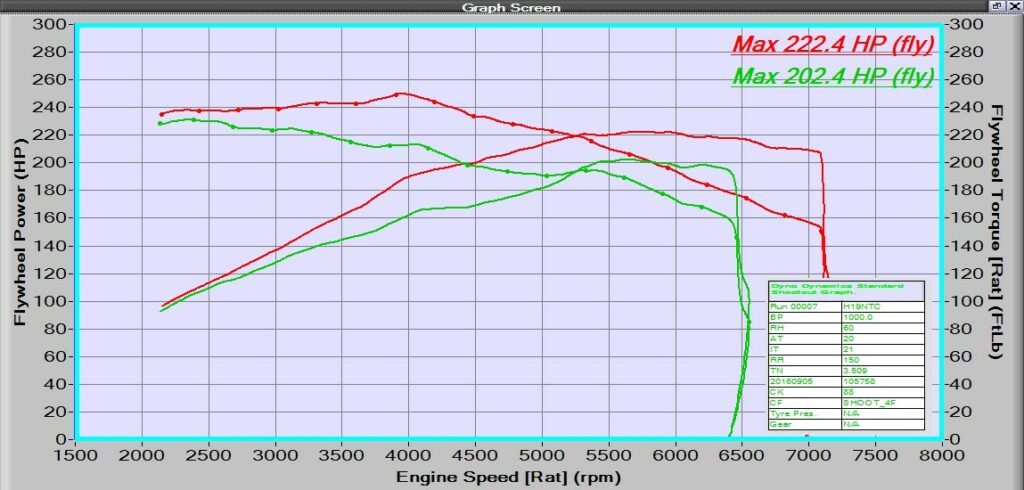 Rabbid Remaps ECU Software only upgrade transforms the mid range punch from the ko3 turbocharger, by optimising boost, AFR and ignition timing gaining 30-40lbft with Peak gains 17-22HP
215-225HP / 230-240TQ
WGM Stage 2 – 
Removing exhaust restriction is the first hardware change for the B16LER Engine. The main (Primary) catalyst is what creates the biggest restriction for the turbocharger. Removing this restriction allows the exhaust gases to escape quicker and reduces exhaust gas temperatures (EGT's). We replace this with a 3″ decat downpipe, allowing much quicker turbo spool, and therefore more power and torque, along with improved exhaust note.
The next obstruction came from the intake, whereby the standard 70mm MAF housing was unable to read correctly above an airflow of approximately 220HP. In order to allow the ECU to function as it was intended, a larger diameter pipework was required. We have addressed this with a 80mm induction kit, with built in MAF boss to slot the standard sensor into. Once MAF calibration was completed, the ECU was able to correctly meter air mass past the 220HP allowing us to  be able to continue with our stage 2 upgrades.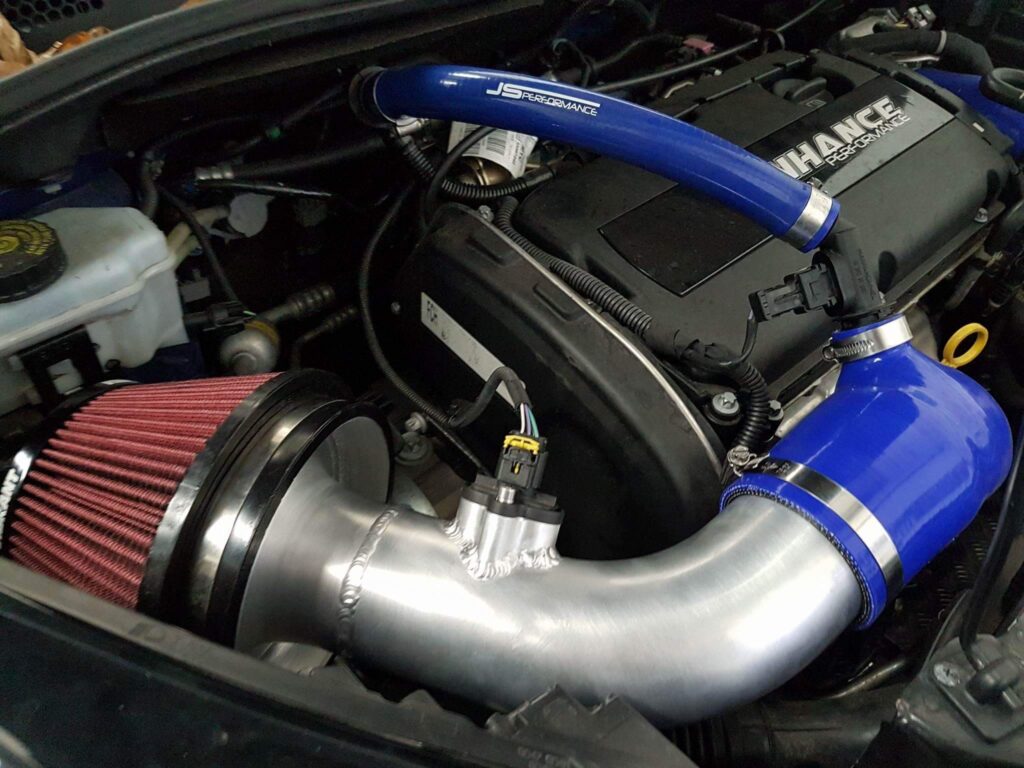 Changing from the factory airbox to the open cone filter induction system saw a massive increase in torque across the whole rev range. 20-30LTBT. With no increase in boost pressure, creating 270LBFT  peak torque. This was turned down to a safer figure by lowering the boost pressure – the higher torque option is available only for engines with Forged Internals.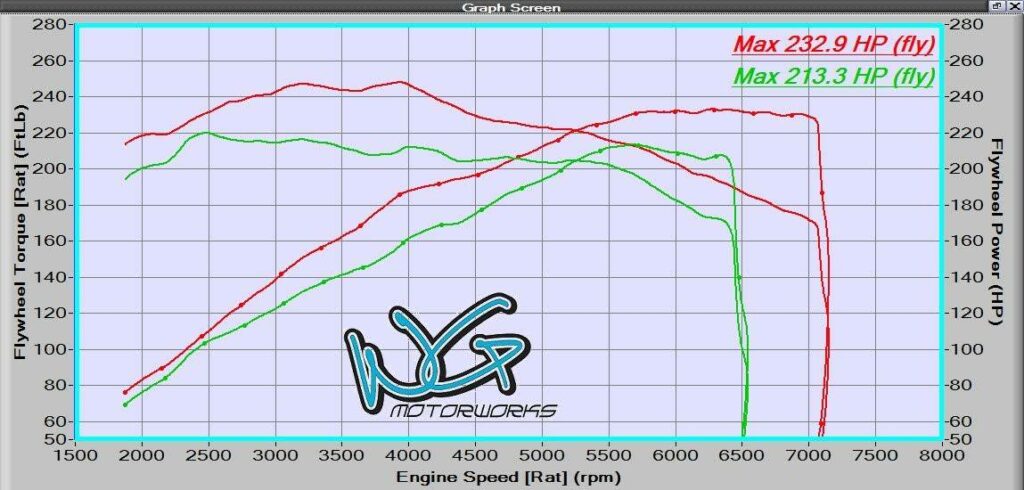 The stage 2 package all comes together with Rabbid Remaps ECU Software, including MAF calibration and optimising Ignition, boost and AFR to create 230-245HP / 240-250TQ Limited (Hi Torque 260-270TQ)
For those who are after an even louder Exhaust roar, Middle box delete sections are also offered – although power gains are minimal 
Decat downpipe is sold for Not For Road Use, we can however offer a secondary system with a Sport catalyst to remain MOT Legal
WGM Stage 3
The next limitation is intake temperatures- one of the key factors when it comes to consistency. Constant prolonged hard usage and summer months produced what we deem to be very high intake temperatures, which create higher power losses and higher exhaust gas temperatures (EGT's). During our testing we saw as high as 70+ degrees on the dyno on the factor map! (33 degree dyno room)
Intake temperatures dropped by as much as 35 degrees with our R&D intercooler from Airtec Cooling Solutions. We were very impressed with the results the intercooler produced dyno, and it was even better on the road, whereby even on a top-speed run, the intake temperatures did not go over 40 degrees on peak summer day.
With the Airtec intercooler installed, the air charge entering the engine is cooler and more dense, therefore the ignition timing and boost are optimized, which leads to a more consistent 240-255HP / 245-255TQ Limited (Hi Torque 270-290LBFT)
Full turboback system required for optimal results
WGM Stage 4
The standard Ko3 turbocharger is pushed to its limit at around 250HP, therefor the next logical step is to install a hybrid turbocharger. This upgrade takes the standard Borg Warner turbocharger and the Ko4 exhaust wheel from its big brother  (the Astra J VXR), along with larger billet compressor wheel machined and profiled by Turbo Dynamics.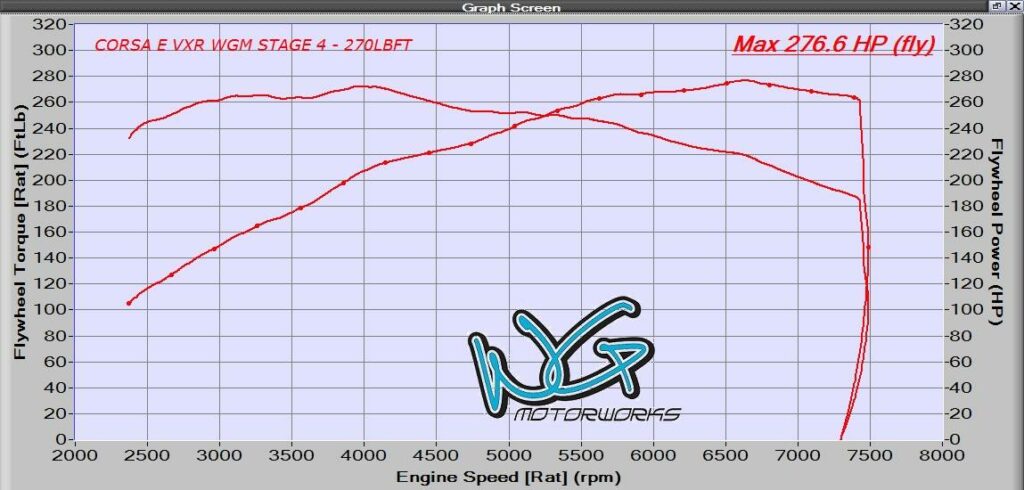 This Turbo set up matched with stage 3 hardware plus ECU Calibration to suit increases the power to approximately 260-280HP with upto 280LBFT
For Optimal Results full Turboback System Required
WGM Stage 4+
As the standard camshafts are very restrictive on the 1.6 Turbo engines, designed for low down performance and economy. Installing our own WGM fast road spec camshafts, made by Piper Camshafts allows the engine to increase air cylinder fill by increasing valve lift and duration , dramatically changing the flow characteristics of the Engine.
Before the power can be increased any further larger fuel injectors are required to be installed, with injector duty limit nearing the max safe limit at stage 4. Installing the direct fit Bosch injectors now allow enough fueling scope for approximately 450HP.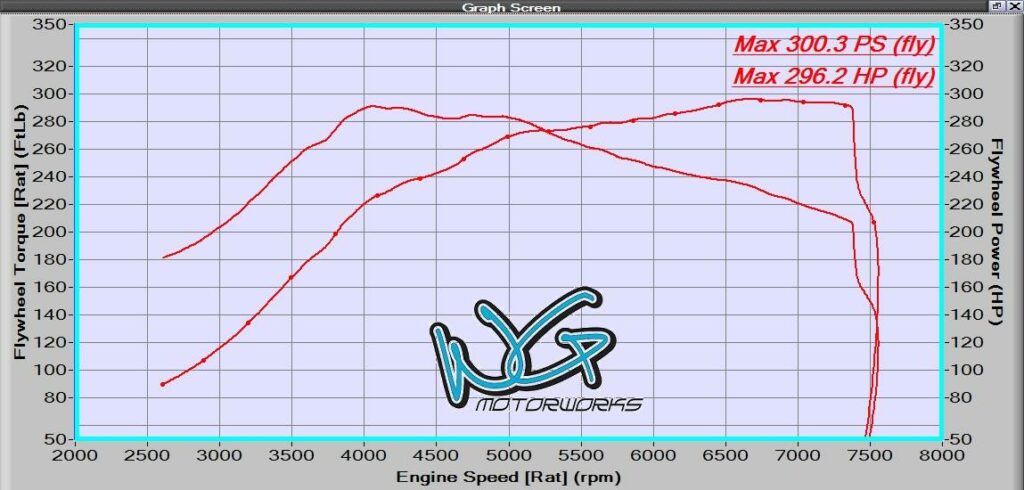 With Camshafts installed, for the ECU Calibration the idle speed is increased for smoothness, along with higher rev limiter to allows maximum power gains of 290-310HP with upto 300LBFT
For Optimal Results full Turboback System Required
Uprated valve springs highly recommended
WGM Stage 5
Our stage 5 packages are well known for pushing the limits of the these small cubic capacity (CC) engines, with new turbo kits currently under development. We will be offering motorsport turbos with beautiful tubular manifolds. Additionally, supporting modifications also already avaible,  such as : Uprated clutch/flywheel packages; uprated engine mounts; limited slip diffs; camshafts; valve springs; valves and oil coolers.
The Sky then really becomes the limit!
With this in mind, we intend to keep the packages simple. We will be offering 350, 400 and 450 bolt-on turbo kit options utilising the Borg Warner EFR 6258, 6758 and 7163 turbochargers in a T4 twinscroll fitment for minimal turbo lag.
WGM Level Packages info-
– All power / torque gains can very car to car, therfore the above is an approximate guide of what would would expect +/-5
– To optimal results, we recommend filling up with Tesco 99 or Shell Nitro- any other 'Super unleaded' fuel could lead to lower then expected results
– 95 RON/supermarket fuel should never be used, even on a standard factory map
– We recommend forging engine internals prior to tuning, although this is not mandatory
– With standard internals, torque is limited to around 240-260TQ
– Although peak torque gains will be limited, overall 'uder curve' torque will increase, making a 'flatter' torque curve
– Our software can be customised to your specific car for optimal gains
– Stage packages do not require step by step tuning, you can go straight to the package that suits power / budget
– For returning customers who wish to upgrade to the next stage, please contact for upgrade pricing