WGMotorworks Corsa C Z19DTH Conversion
We were given the task for converting Danny's 1.7 CDTi Corsa C to a 1.9 CDTi, A Conversion that had never been carried out before (as far we were aware)
The 1.9 CDTi engine is found across the Vauxhall range, but not in the Corsa C unfortunately, and has proven very punchy motor with wide spread of power and torque – even when standard
Even before we started the conversion, we knew it was was never going to an easy challenge, but never the less – we took on the challenge!
The Engine was removed and mounted into the Corsa in a couple of days – and amazingly everything fitted perfectly! All that had to be done was remove the Aircon Pump (as would foul the subframe)
 Once the easy part of mounting the Engine and 6 speed M32 Gearbox into the Corsa – getting the ECU to talk to Tech 2 was the next job, with a few hours comparing wiring diagrams and converting the 1.7 Loom over to run the 1.9 ECU, we had communication with the Bosch EDC16 ECU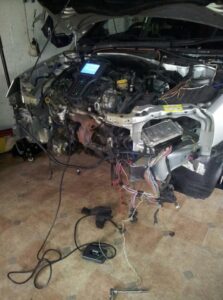 There were several issues along the way, which delayed time – But after failing companies attempted to carry out ECU work, we had to find another way, though it proved baffling at first, but with many hours staring at wiring diagrams and alot of head scratching! But we got there in the end, while this was being carried out the conversion modifications were being carried out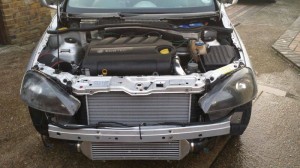 Running Turbo back 2.5″ No (zero) Silencer system, giving this Corsa a distinctive bark – Matched with a WGM Rabbid Remap boasting 210bhp / 345lbft
Proven 1/4 Mile at 14.5 on standard diff!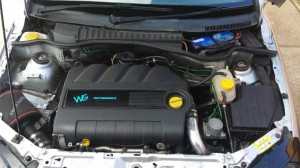 As far as we aware, this is the first Z19DTH converted Corsa C in the world – And will stay that way for a long time
For more pictures:  https://www.facebook.com/media/set/?set=a.422653087776613.89947.207028252672432&type=3