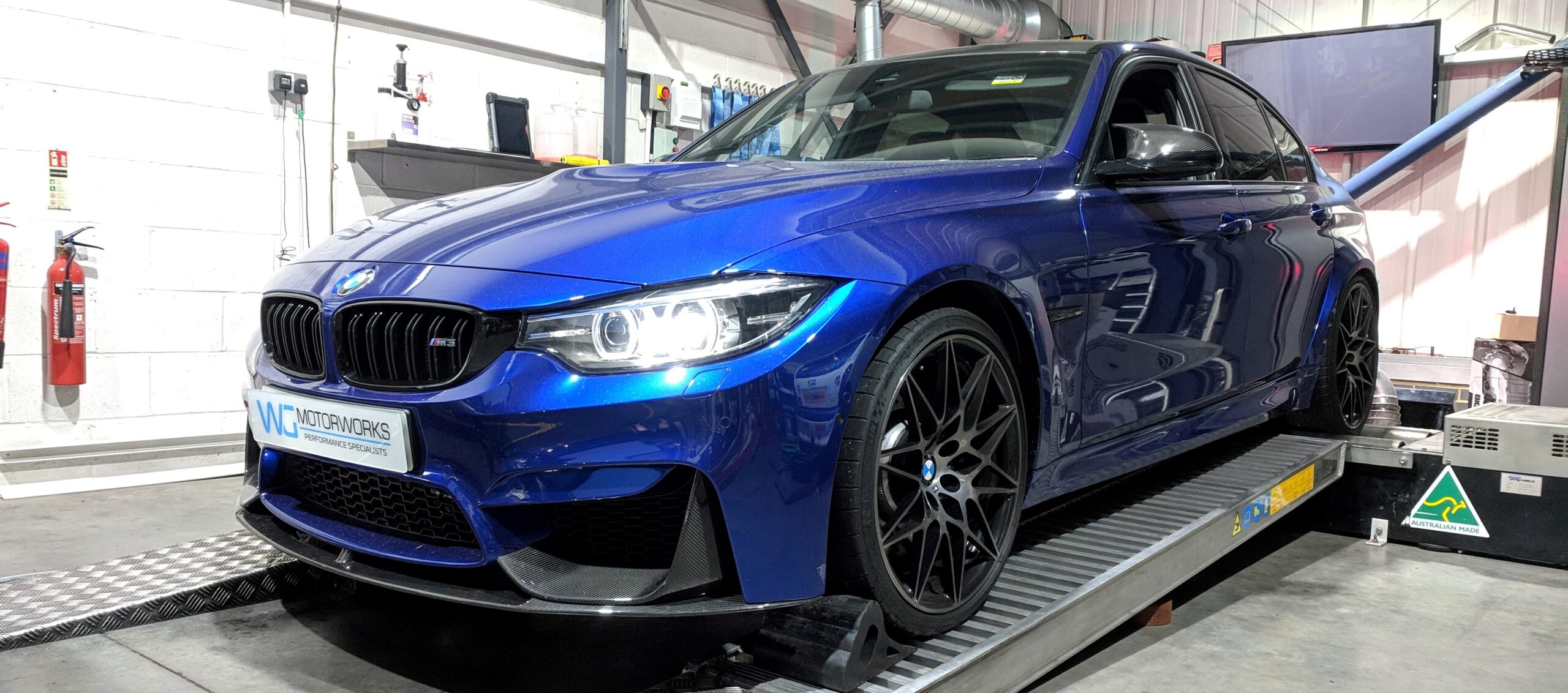 BMW M3 M4 F8x
WG Motorworks Tuning Guide
The standard M3/ M4  along with the competition models, are equipped with the S55 engine, a 3.0 Twin turbo straight six, direct injection engine. Marking the end of the naturally aspirated (NA) M car era, leaving it behind in favour of this newfound turbo setup.
Released with 425HP Standard (444HP Competition) the engine is far from slow, but when weight is taken into consideration HP/ Tonne numbers are not the highest, luckily there is plenty of room for improvement with some ECU tuning!
Overall the S55 engine is a strong power unit, matched with a DCT gearbox that has been proven to handle in excess of 600-700HP in standard form, although if using for track we would recommend some additional cooling packages to ensure temperatures are kept in check.
The main weak link on the S55 has been found, this is related to the crankshaft to timing gear attachment - more specifically the use of a flange that relies purely on bolt torque pressure to attach the timing chain bottom pulley to the crankshaft without a key way or dowel. This can 'slip' with aggressive downshifts / high torque numbers. We can offer a capture plate which helps to prevent this occurring, however there is no guarantee that is a permanent fix. For those running big power and looking for a more assured 'fix' there is a complete solution which involves replacing the bottom pulley with a doweled crank hub. More information can be found here... (soon)
S55 Engine ECU tuning can be offered across two options, our standard tune with its proven calibrations - which have been Dyno, Track, and also importantly Road tested. Alternatively, and preferably we can offer ECUTEK Racerom software which allows us to enhance more aspects of the engine including on the fly map switching features, rolling anti-lag while allowing the end-user to adjust certain parameters with a Bluetooth device with a phone APP
For the power hungry folk, or those who simply want to improve their soundtrack - plenty of upgrades can be offered from MOT legal exhaust systems and full track system (not road legal), along with Hybrid turbo chargers and engine cooling upgrades. Click here for Performance Upgrades
For those Track Addicts, Nurburgring goers or simply for those who have increased their power and want a chassis to match, we can offer simple upgrades from high performance pads / brake lines to full  suspension coilover systems, with various Roll bar and bush upgrades. Click here for Chassis Upgrades
The first step with extracting power from the S55 engine requires no hardware changes, this is software only upgrade. The main objective was to keep the power climbing nearer to the rev limiter rather than flattening off, along with increasing the torque levels while following a similar power delivery to stock to avoid unnecessary torque spikes from the small twin turbo's. While retaining a safe AFR to ensure EGT / Catalyst temperatures are kept in check.
With our initial stage 1 software only upgrade, the following features are included:
Vmax Removal (Speed limiter removed)
Sports Displays recalibrated to suit new outputs
Enhanced over run (Optional)
Expected Results, based on our Dyno Dynamics rolling Road:

+75-100HP (500-530HP)
+ 90-110LBFT (510-530LBFT)
The final step to maximizing the efficiency of the stock turbochargers is removing the catalyst in the downpipes, Total removal of the catalyst is recommended for Track use only as it is not MOT compliant. With the cat-less downpipes installed Fueling can be optimized and new lambda targets set, along with a  slight increase in boost and ignition timing taking into account the less restrictive exhaust system. Standard cat back with or without GPF filters (2019 M4) can be still retained, how ever optimal results are based on free flowing turbo back system. An uprated Charge cooler system is not a requirement, however gains can still be achieved by installing one.
With our 'Stage 2' software upgrades the following are included:
Vmax Removal (Speed limiter removed)
Sports Displays recalibrated to suit new outputs
Catalyst code removal to avoid EML lights
Cold start delete (removal of high / loud idle) (optional)
GPF delete software (If applicable)
Enhanced over run (Optional)
Expected Results, based on our Dyno Dynamics rolling Road:

+105-135HP (530-560HP)
+ 90-110LBFT (540-560LBFT)
The stock turbochargers are the limiting factor when it comes to the next stage of performance, with compressor / turbines limiting any more flow. With larger compressors and turbines installed into the stock turbo housings, these 'Hybrids' allow much greater mass air flow, and exhaust gas flow. High flow downpipes are must at this state of tune, and with a cat back system advised for optimal gains. Charge temperatures start to creep up when increasing the boost pressures - so depending on target HP and usage we would advise a charge cooler upgrade as well. Water Methanol would also be a recommended upgrade when looking for maximum output.
With our 'Stage 3' software upgrades the following are included:
Vmax Removal (Speed limiter removed)
Sports Displays recalibrated to suit new outputs
Catalyst code removal to avoid EML lights
Cold start delete (removal of high / loud idle) (optional)
GPF delete software (If applicable)
Enhanced over run (Optional)
Expected Results, based on our Dyno Dynamics rolling Road:
+175-285HP (600-700HP)
+120-170LBFT (570-620LBFT)