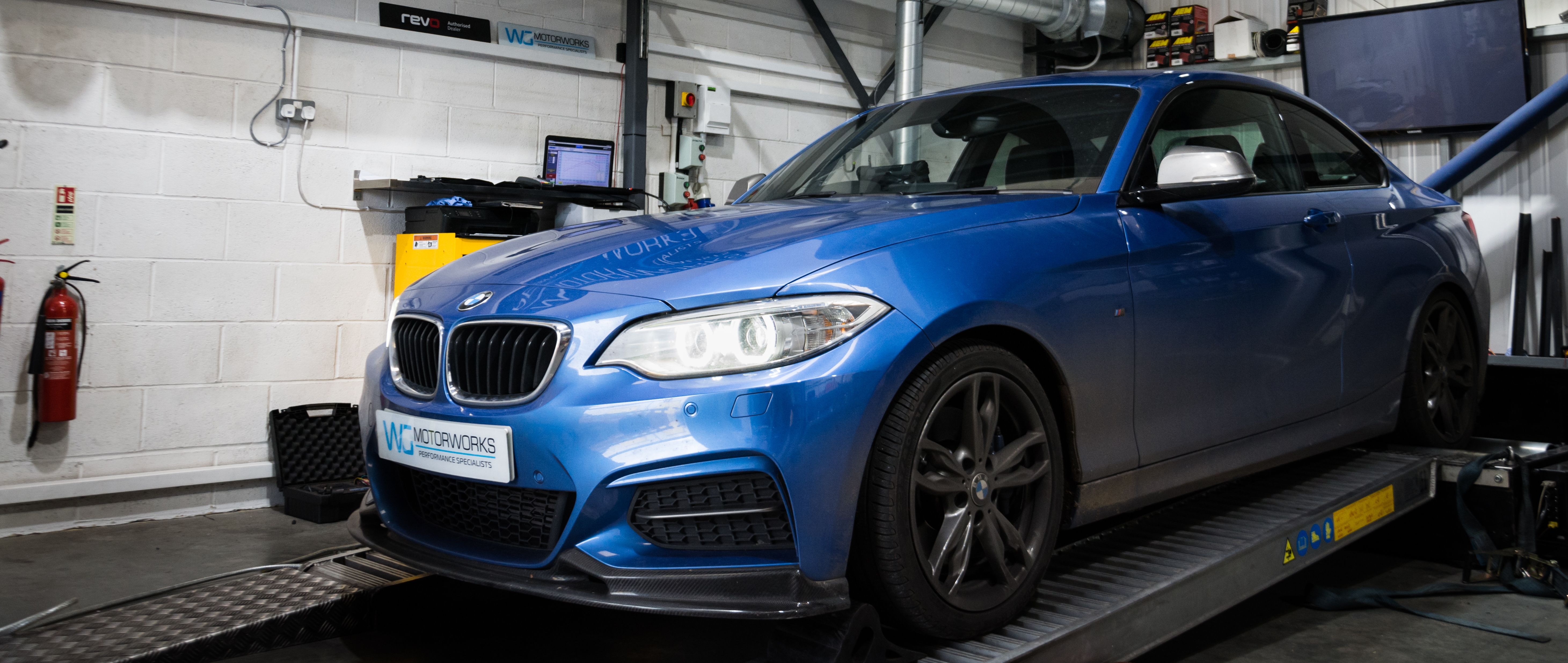 BMW M135i / M235i (F20,F21,F22)
Tuning guide
The M 35i BMW engine range are equipped with the N55 engine (predecessor of the N54 engine) now running a single turbo (Twin Scroll) 3.0 liter straight 6 power plant, equipped with Valvetronic (Variable cam lift) direct injection fuel system.
Released with official figures of 326hp by the manufacture, with two engine models - the first ran a short period of 2012-June 2013 known as the PWG (pneumatic wastegate) and the later turbo set up with EWG (Electronic wastegate). The earlier PWG models make great torque levels, but struggle with upper RPM power figures compared to the EWG models, upto 20-30hp less. Our tuning guide will based on the EWG models.
One of the common issues when increasing the boost pressures upon tuning is the charge pipe breaking, it is recommend to replace this for reliability reasons.
N55 Engine ECU tuning can be offered across two options, our standard CustomPro tune with its proven calibrations, alternatively we can offer  BM3 (Bootmod3) software for the end users who like to fine tune some settings themselves. TCU (Transmission) tuning can also be offered on the ZF8 Automatic gearboxes by XHP, for the perfect combination.
For the power hungry folks, or those who simply want to improve their soundtrack - plenty of upgrades can be offered from MOT legal exhaust systems, full track system (Not road legal) can be offered, along with Hybrid turbo chargers and engine cooling upgrades.
For those Track Addicts, Nurburgring goers or simply for those who have increased their power and need to match chassis we can offer simple upgrades from lowering springs, performance pads to full coilover systems. anti roll bars and limited slip differential upgrades.
The first step with extracting power from the N55 engine requires no hardware changes, this is software only upgrade. The ECU software follows the linear torque delivery  like stock, through the low to mid range while adding a nice 50 lbf across the curve.  In the higher rpm at the point the standard power curve starts to flatten off we keep the power climbing, peaking an extra 50-60HP.
We retain this flat torque delivery for driveability reasons, most of the 35i models do not come equipped with an LSD, with this in mind additional torque / spikey delivery can provoke unwanted wheel spin, and show up chassis limitations.
With our 'Stage' software upgrades the following features are included:
Vmax Removal (Speed limiter removed)
Sports Displays recalibrated to suit new outputs
Enhanced over run (Optional)
Switchable map modes (Normal power on ECO, with the 'MAP' on Sports / Sports+)
Expected Results, based on our Dyno Dynamics rolling Road:
+44-54HP (370-380HP)
+ 40-60LBFT (390-410LBFT)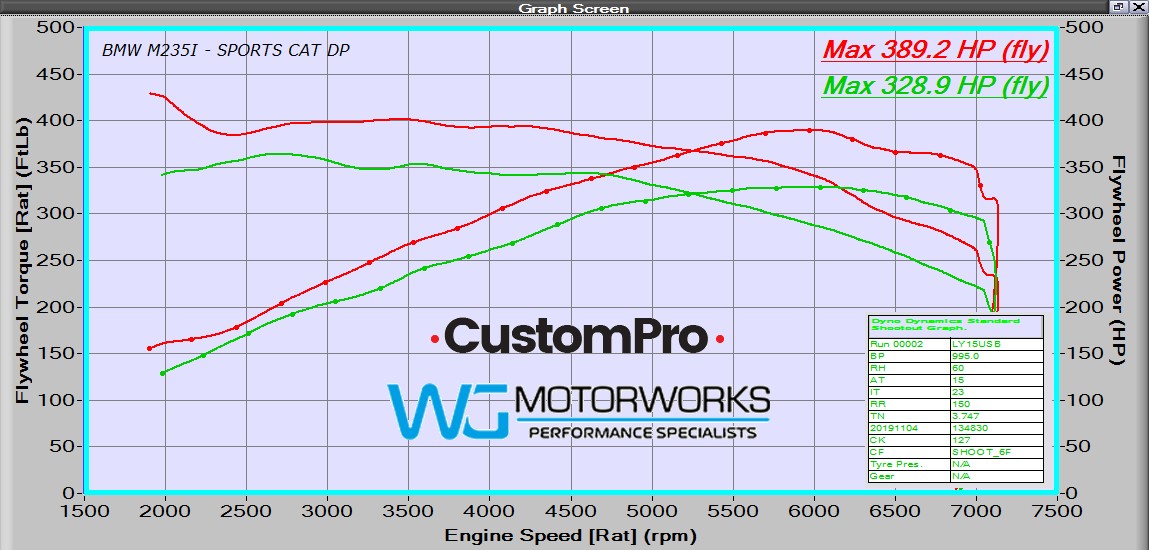 An additional step with improving exhaust flow of the stock turbocharger is removing the catalyst in the downpipe, Removal of the standard catalyst upgrade is recommended to install a sports cat to retain MOT legal status, or decatted for optimal gains (Track use only) . With the free flowing downpipe installed fueling can be optimized and new lambda targets set, and slight increase of boost and ignition timing taking into account the less restrictive exhaust system.
Standard cat back can be still retained, how ever optimal results are based on free flowing turbo back system.
Low end response is improved and turbo lag is reduced, torque levels will be held similar to stage 1, but power in higher RPM will increase by 10-15hp.
This stage 2 includes option for,  cold start delete (Removal of high / loud idle) along with Catalyst code removal to avoid EML lights.
Expected Results, based on our Dyno Dynamics rolling Road:
+54-69HP (380-395HP)
+ 60-70LBFT (400-420 LB FT)
The intercooler is the limiting factor when it comes to tuning the N55 Engine, with Intakes typically hitting 50-60+ degrees celsius when increasing boost pressure. For maximuming performance from the stock turbocharger we install a larger Core / surface area air to air intercooler, dramatically improving intake temperatures - instantly picking up horse power.
With the cooling system improved ignition timing can be advanced gaining even more power.
Expected Results, based on our Dyno Dynamics rolling Road:
+74-94HP (400-420HP)
+ 60-70LBFT (400-420LBFT)